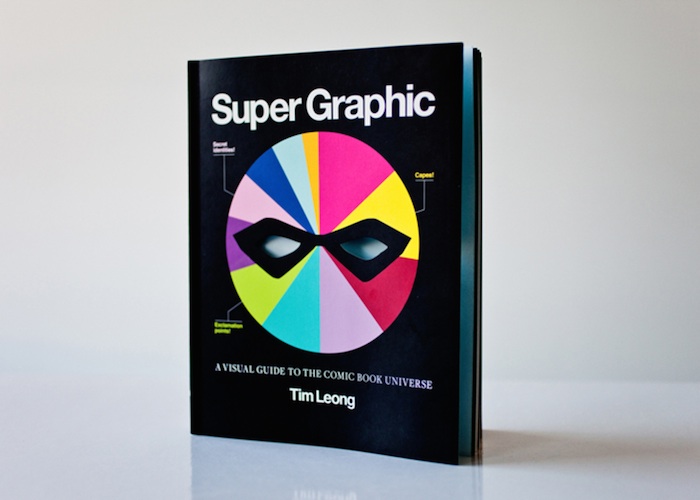 ¿Alguna vez os habéis preguntado cual es la esperanza de vida en The Walking Dead? ¿O si Bruce Wayne es más rico que Tony Stark? ¿O cuántos Das y Batman se pronuncian en el tema musical de la serie de Batman de los sesenta? Si es así en Super Graphic: A Visual Guide to the Comic Book Universe de Tim Leong encontrarás las respuestas a estas preguntas y muchísimas más.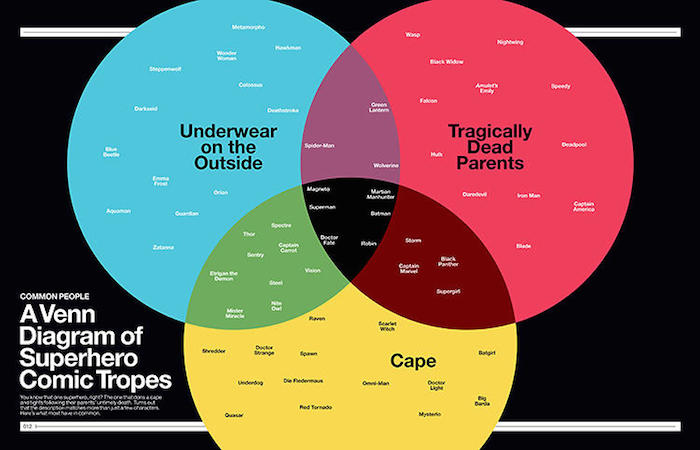 Los diagramas sintetizan datos tan vitales como el tipo de pizzas que prefieren las Tortugas Ninja, reproducen el árbol genealógico de Tío Gilito —nunca me quedó demasiado claro de quién eran hijos Juanito, Jorgito y Jaimito—, muestran la evolución del logo de Superman, las posturas ideológicas de los superhéroes, los cambios de longitud de las piernas de Wonder Woman a lo largo de setenta años o demuestra mediante un diagrama de Venn que Magneto, Superman o Batman tienen en común más cosas de las que parecen.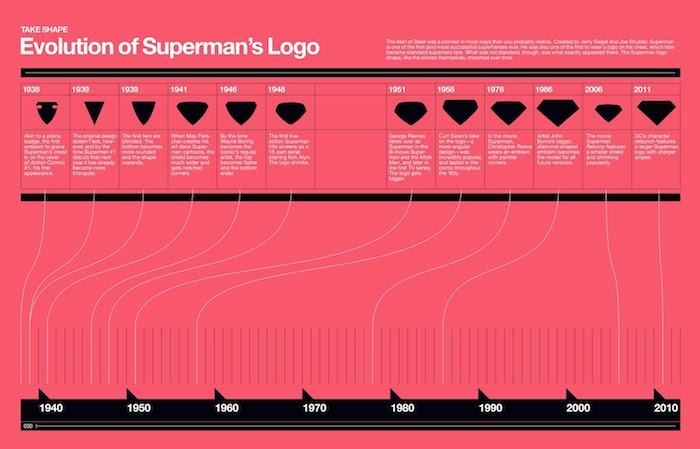 Long, antiguo director de diseño de Wired, consigue condensar en casi doscientas páginas el vastísimo universo cómic mediante infografías rigurosas y con grandes dosis de sentido del humor. Toda una joya de libro ideal para geeks amantes de los superhéroes, pero también para los que les gusten los datos inútiles y de las estadísticas en general. Y es que todo, todo, entra muchísimo mejor con infografías y más aún si son tan bonitas como éstas.
    <style type='text/css'>
        #gallery-2 {
            margin: auto;
        }
        #gallery-2 .gallery-item {
            float: left;
            margin-top: 10px;
            text-align: center;
            width: 16%;
        }
        #gallery-2 img {
            border: 2px solid #cfcfcf;
        }
        #gallery-2 .gallery-caption {
            margin-left: 0;
        }
        /* see gallery_shortcode() in wp-includes/media.php */
    </style>
    <div data-carousel-extra='{"blog_id":19,"permalink":"https:\/\/xombit.com\/2014\/04\/comic-infografias","likes_blog_id":20876036}' id='gallery-2' class='gallery galleryid-115265 gallery-columns-6 gallery-size-thumbnail'><dl class='gallery-item'>
        <dt class='gallery-icon landscape'>
            <a href='https://xombit.com/2014/04/comic-infografias/super-graphic'><img width="100" height="100" src="https://xombit.com/files/2014/04/Super-Graphic-100x100.jpg" class="attachment-thumbnail size-thumbnail" alt="Super Graphic" srcset="https://xombit.com/files/2014/04/Super-Graphic-100x100.jpg 100w, https://xombit.com/files/2014/04/Super-Graphic-50x50.jpg 50w, https://xombit.com/files/2014/04/Super-Graphic-118x118.jpg 118w" sizes="(max-width: 100px) 100vw, 100px" data-attachment-id="115267" data-orig-file="https://xombit.com/files/2014/04/Super-Graphic.jpg" data-orig-size="700,500" data-comments-opened="1" data-image-meta="{&quot;aperture&quot;:&quot;0&quot;,&quot;credit&quot;:&quot;&quot;,&quot;camera&quot;:&quot;&quot;,&quot;caption&quot;:&quot;&quot;,&quot;created_timestamp&quot;:&quot;0&quot;,&quot;copyright&quot;:&quot;&quot;,&quot;focal_length&quot;:&quot;0&quot;,&quot;iso&quot;:&quot;0&quot;,&quot;shutter_speed&quot;:&quot;0&quot;,&quot;title&quot;:&quot;&quot;}" data-image-title="Super Graphic" data-image-description="" data-medium-file="https://xombit.com/files/2014/04/Super-Graphic-400x285.jpg" data-large-file="https://xombit.com/files/2014/04/Super-Graphic.jpg" /></a>
        </dt></dl><dl class='gallery-item'>
        <dt class='gallery-icon landscape'>
            <a href='https://xombit.com/2014/04/comic-infografias/supermans-logo'><img width="100" height="100" src="https://xombit.com/files/2014/04/Supermans-Logo-100x100.jpg" class="attachment-thumbnail size-thumbnail" alt="Evolución del logo de Superman" srcset="https://xombit.com/files/2014/04/Supermans-Logo-100x100.jpg 100w, https://xombit.com/files/2014/04/Supermans-Logo-50x50.jpg 50w, https://xombit.com/files/2014/04/Supermans-Logo-118x118.jpg 118w" sizes="(max-width: 100px) 100vw, 100px" data-attachment-id="115268" data-orig-file="https://xombit.com/files/2014/04/Supermans-Logo.jpg" data-orig-size="700,449" data-comments-opened="1" data-image-meta="{&quot;aperture&quot;:&quot;0&quot;,&quot;credit&quot;:&quot;&quot;,&quot;camera&quot;:&quot;&quot;,&quot;caption&quot;:&quot;&quot;,&quot;created_timestamp&quot;:&quot;0&quot;,&quot;copyright&quot;:&quot;&quot;,&quot;focal_length&quot;:&quot;0&quot;,&quot;iso&quot;:&quot;0&quot;,&quot;shutter_speed&quot;:&quot;0&quot;,&quot;title&quot;:&quot;&quot;}" data-image-title="Super Graphic" data-image-description="" data-medium-file="https://xombit.com/files/2014/04/Supermans-Logo-400x256.jpg" data-large-file="https://xombit.com/files/2014/04/Supermans-Logo.jpg" /></a>
        </dt></dl><dl class='gallery-item'>
        <dt class='gallery-icon landscape'>
            <a href='https://xombit.com/2014/04/comic-infografias/the-punisher'><img width="100" height="100" src="https://xombit.com/files/2014/04/The-Punisher-100x100.jpg" class="attachment-thumbnail size-thumbnail" alt="The Punisher" srcset="https://xombit.com/files/2014/04/The-Punisher-100x100.jpg 100w, https://xombit.com/files/2014/04/The-Punisher-50x50.jpg 50w, https://xombit.com/files/2014/04/The-Punisher-118x118.jpg 118w" sizes="(max-width: 100px) 100vw, 100px" data-attachment-id="115270" data-orig-file="https://xombit.com/files/2014/04/The-Punisher.jpg" data-orig-size="700,460" data-comments-opened="1" data-image-meta="{&quot;aperture&quot;:&quot;0&quot;,&quot;credit&quot;:&quot;&quot;,&quot;camera&quot;:&quot;&quot;,&quot;caption&quot;:&quot;&quot;,&quot;created_timestamp&quot;:&quot;0&quot;,&quot;copyright&quot;:&quot;&quot;,&quot;focal_length&quot;:&quot;0&quot;,&quot;iso&quot;:&quot;0&quot;,&quot;shutter_speed&quot;:&quot;0&quot;,&quot;title&quot;:&quot;&quot;}" data-image-title="Super Graphic" data-image-description="" data-medium-file="https://xombit.com/files/2014/04/The-Punisher-400x262.jpg" data-large-file="https://xombit.com/files/2014/04/The-Punisher.jpg" /></a>
        </dt></dl><dl class='gallery-item'>
        <dt class='gallery-icon portrait'>
            <a href='https://xombit.com/2014/04/comic-infografias/scrooge-mcduck'><img width="100" height="100" src="https://xombit.com/files/2014/04/Scrooge-McDuck-100x100.jpg" class="attachment-thumbnail size-thumbnail" alt="Scrooge McDuck" srcset="https://xombit.com/files/2014/04/Scrooge-McDuck-100x100.jpg 100w, https://xombit.com/files/2014/04/Scrooge-McDuck-50x50.jpg 50w, https://xombit.com/files/2014/04/Scrooge-McDuck-118x118.jpg 118w" sizes="(max-width: 100px) 100vw, 100px" data-attachment-id="115271" data-orig-file="https://xombit.com/files/2014/04/Scrooge-McDuck.jpg" data-orig-size="500,669" data-comments-opened="1" data-image-meta="{&quot;aperture&quot;:&quot;0&quot;,&quot;credit&quot;:&quot;&quot;,&quot;camera&quot;:&quot;&quot;,&quot;caption&quot;:&quot;&quot;,&quot;created_timestamp&quot;:&quot;0&quot;,&quot;copyright&quot;:&quot;&quot;,&quot;focal_length&quot;:&quot;0&quot;,&quot;iso&quot;:&quot;0&quot;,&quot;shutter_speed&quot;:&quot;0&quot;,&quot;title&quot;:&quot;&quot;}" data-image-title="Super Graphic" data-image-description="" data-medium-file="https://xombit.com/files/2014/04/Scrooge-McDuck-400x535.jpg" data-large-file="https://xombit.com/files/2014/04/Scrooge-McDuck.jpg" /></a>
        </dt></dl><dl class='gallery-item'>
        <dt class='gallery-icon portrait'>
            <a href='https://xombit.com/2014/04/comic-infografias/batman'><img width="100" height="100" src="https://xombit.com/files/2014/04/Batman-100x100.jpg" class="attachment-thumbnail size-thumbnail" alt="Canción de Batman" srcset="https://xombit.com/files/2014/04/Batman-100x100.jpg 100w, https://xombit.com/files/2014/04/Batman-50x50.jpg 50w, https://xombit.com/files/2014/04/Batman-118x118.jpg 118w" sizes="(max-width: 100px) 100vw, 100px" data-attachment-id="115272" data-orig-file="https://xombit.com/files/2014/04/Batman.jpg" data-orig-size="700,908" data-comments-opened="1" data-image-meta="{&quot;aperture&quot;:&quot;0&quot;,&quot;credit&quot;:&quot;&quot;,&quot;camera&quot;:&quot;&quot;,&quot;caption&quot;:&quot;&quot;,&quot;created_timestamp&quot;:&quot;0&quot;,&quot;copyright&quot;:&quot;&quot;,&quot;focal_length&quot;:&quot;0&quot;,&quot;iso&quot;:&quot;0&quot;,&quot;shutter_speed&quot;:&quot;0&quot;,&quot;title&quot;:&quot;&quot;}" data-image-title="Super Graphic" data-image-description="" data-medium-file="https://xombit.com/files/2014/04/Batman-400x518.jpg" data-large-file="https://xombit.com/files/2014/04/Batman.jpg" /></a>
        </dt></dl><dl class='gallery-item'>
        <dt class='gallery-icon landscape'>
            <a href='https://xombit.com/2014/04/comic-infografias/fortunas-de-superheroes'><img width="100" height="100" src="https://xombit.com/files/2014/04/Fortunas-de-superhéroes-100x100.jpg" class="attachment-thumbnail size-thumbnail" alt="Fortunas de superhéroes" srcset="https://xombit.com/files/2014/04/Fortunas-de-superhéroes-100x100.jpg 100w, https://xombit.com/files/2014/04/Fortunas-de-superhéroes-50x50.jpg 50w, https://xombit.com/files/2014/04/Fortunas-de-superhéroes-118x118.jpg 118w" sizes="(max-width: 100px) 100vw, 100px" data-attachment-id="115273" data-orig-file="https://xombit.com/files/2014/04/Fortunas-de-superhéroes.jpg" data-orig-size="750,480" data-comments-opened="1" data-image-meta="{&quot;aperture&quot;:&quot;0&quot;,&quot;credit&quot;:&quot;&quot;,&quot;camera&quot;:&quot;&quot;,&quot;caption&quot;:&quot;&quot;,&quot;created_timestamp&quot;:&quot;0&quot;,&quot;copyright&quot;:&quot;&quot;,&quot;focal_length&quot;:&quot;0&quot;,&quot;iso&quot;:&quot;0&quot;,&quot;shutter_speed&quot;:&quot;0&quot;,&quot;title&quot;:&quot;&quot;}" data-image-title="Super Graphic" data-image-description="" data-medium-file="https://xombit.com/files/2014/04/Fortunas-de-superhéroes-400x256.jpg" data-large-file="https://xombit.com/files/2014/04/Fortunas-de-superhéroes-700x448.jpg" /></a>
        </dt></dl><br style="clear: both" /><dl class='gallery-item'>
        <dt class='gallery-icon landscape'>
            <a href='https://xombit.com/2014/04/comic-infografias/censura'><img width="100" height="100" src="https://xombit.com/files/2014/04/Censura-100x100.jpg" class="attachment-thumbnail size-thumbnail" alt="Censura" srcset="https://xombit.com/files/2014/04/Censura-100x100.jpg 100w, https://xombit.com/files/2014/04/Censura-50x50.jpg 50w, https://xombit.com/files/2014/04/Censura-118x118.jpg 118w" sizes="(max-width: 100px) 100vw, 100px" data-attachment-id="115274" data-orig-file="https://xombit.com/files/2014/04/Censura.jpg" data-orig-size="700,453" data-comments-opened="1" data-image-meta="{&quot;aperture&quot;:&quot;0&quot;,&quot;credit&quot;:&quot;&quot;,&quot;camera&quot;:&quot;&quot;,&quot;caption&quot;:&quot;&quot;,&quot;created_timestamp&quot;:&quot;0&quot;,&quot;copyright&quot;:&quot;&quot;,&quot;focal_length&quot;:&quot;0&quot;,&quot;iso&quot;:&quot;0&quot;,&quot;shutter_speed&quot;:&quot;0&quot;,&quot;title&quot;:&quot;&quot;}" data-image-title="Super Graphic" data-image-description="" data-medium-file="https://xombit.com/files/2014/04/Censura-400x258.jpg" data-large-file="https://xombit.com/files/2014/04/Censura.jpg" /></a>
        </dt></dl><dl class='gallery-item'>
        <dt class='gallery-icon portrait'>
            <a href='https://xombit.com/2014/04/comic-infografias/politica'><img width="100" height="100" src="https://xombit.com/files/2014/04/Política-100x100.jpg" class="attachment-thumbnail size-thumbnail" alt="Política" srcset="https://xombit.com/files/2014/04/Política-100x100.jpg 100w, https://xombit.com/files/2014/04/Política-50x50.jpg 50w, https://xombit.com/files/2014/04/Política-118x118.jpg 118w" sizes="(max-width: 100px) 100vw, 100px" data-attachment-id="115275" data-orig-file="https://xombit.com/files/2014/04/Política.jpg" data-orig-size="700,902" data-comments-opened="1" data-image-meta="{&quot;aperture&quot;:&quot;0&quot;,&quot;credit&quot;:&quot;&quot;,&quot;camera&quot;:&quot;&quot;,&quot;caption&quot;:&quot;&quot;,&quot;created_timestamp&quot;:&quot;0&quot;,&quot;copyright&quot;:&quot;&quot;,&quot;focal_length&quot;:&quot;0&quot;,&quot;iso&quot;:&quot;0&quot;,&quot;shutter_speed&quot;:&quot;0&quot;,&quot;title&quot;:&quot;&quot;}" data-image-title="Super Graphic" data-image-description="" data-medium-file="https://xombit.com/files/2014/04/Política-400x515.jpg" data-large-file="https://xombit.com/files/2014/04/Política.jpg" /></a>
        </dt></dl><dl class='gallery-item'>
        <dt class='gallery-icon landscape'>
            <a href='https://xombit.com/2014/04/comic-infografias/diagrama-de-venn'><img width="100" height="100" src="https://xombit.com/files/2014/04/Diagrama-de-Venn-100x100.jpg" class="attachment-thumbnail size-thumbnail" alt="Diagrama de Venn" srcset="https://xombit.com/files/2014/04/Diagrama-de-Venn-100x100.jpg 100w, https://xombit.com/files/2014/04/Diagrama-de-Venn-50x50.jpg 50w, https://xombit.com/files/2014/04/Diagrama-de-Venn-118x118.jpg 118w" sizes="(max-width: 100px) 100vw, 100px" data-attachment-id="115276" data-orig-file="https://xombit.com/files/2014/04/Diagrama-de-Venn.jpg" data-orig-size="700,450" data-comments-opened="1" data-image-meta="{&quot;aperture&quot;:&quot;0&quot;,&quot;credit&quot;:&quot;&quot;,&quot;camera&quot;:&quot;&quot;,&quot;caption&quot;:&quot;&quot;,&quot;created_timestamp&quot;:&quot;0&quot;,&quot;copyright&quot;:&quot;&quot;,&quot;focal_length&quot;:&quot;0&quot;,&quot;iso&quot;:&quot;0&quot;,&quot;shutter_speed&quot;:&quot;0&quot;,&quot;title&quot;:&quot;&quot;}" data-image-title="Super Graphic" data-image-description="" data-medium-file="https://xombit.com/files/2014/04/Diagrama-de-Venn-400x257.jpg" data-large-file="https://xombit.com/files/2014/04/Diagrama-de-Venn.jpg" /></a>
        </dt></dl><dl class='gallery-item'>
        <dt class='gallery-icon landscape'>
            <a href='https://xombit.com/2014/04/comic-infografias/piernas-wonder-woman'><img width="100" height="100" src="https://xombit.com/files/2014/04/Piernas-Wonder-Woman-100x100.jpg" class="attachment-thumbnail size-thumbnail" alt="Piernas Wonder Woman" srcset="https://xombit.com/files/2014/04/Piernas-Wonder-Woman-100x100.jpg 100w, https://xombit.com/files/2014/04/Piernas-Wonder-Woman-50x50.jpg 50w, https://xombit.com/files/2014/04/Piernas-Wonder-Woman-118x118.jpg 118w" sizes="(max-width: 100px) 100vw, 100px" data-attachment-id="115277" data-orig-file="https://xombit.com/files/2014/04/Piernas-Wonder-Woman.jpg" data-orig-size="700,451" data-comments-opened="1" data-image-meta="{&quot;aperture&quot;:&quot;0&quot;,&quot;credit&quot;:&quot;&quot;,&quot;camera&quot;:&quot;&quot;,&quot;caption&quot;:&quot;&quot;,&quot;created_timestamp&quot;:&quot;0&quot;,&quot;copyright&quot;:&quot;&quot;,&quot;focal_length&quot;:&quot;0&quot;,&quot;iso&quot;:&quot;0&quot;,&quot;shutter_speed&quot;:&quot;0&quot;,&quot;title&quot;:&quot;&quot;}" data-image-title="Super Graphic" data-image-description="" data-medium-file="https://xombit.com/files/2014/04/Piernas-Wonder-Woman-400x257.jpg" data-large-file="https://xombit.com/files/2014/04/Piernas-Wonder-Woman.jpg" /></a>
        </dt></dl><dl class='gallery-item'>
        <dt class='gallery-icon landscape'>
            <a href='https://xombit.com/2014/04/comic-infografias/supergraphic_mechs_v4-indd'><img width="100" height="100" src="https://xombit.com/files/2014/04/The-Flash-100x100.jpg" class="attachment-thumbnail size-thumbnail" alt="The Flash" srcset="https://xombit.com/files/2014/04/The-Flash-100x100.jpg 100w, https://xombit.com/files/2014/04/The-Flash-50x50.jpg 50w, https://xombit.com/files/2014/04/The-Flash-118x118.jpg 118w" sizes="(max-width: 100px) 100vw, 100px" data-attachment-id="115278" data-orig-file="https://xombit.com/files/2014/04/The-Flash.jpg" data-orig-size="700,460" data-comments-opened="1" data-image-meta="{&quot;aperture&quot;:&quot;0&quot;,&quot;credit&quot;:&quot;&quot;,&quot;camera&quot;:&quot;&quot;,&quot;caption&quot;:&quot;&quot;,&quot;created_timestamp&quot;:&quot;0&quot;,&quot;copyright&quot;:&quot;&quot;,&quot;focal_length&quot;:&quot;0&quot;,&quot;iso&quot;:&quot;0&quot;,&quot;shutter_speed&quot;:&quot;0&quot;,&quot;title&quot;:&quot;SuperGraphic_Mechs_v4.indd&quot;}" data-image-title="Super Graphics" data-image-description="" data-medium-file="https://xombit.com/files/2014/04/The-Flash-400x262.jpg" data-large-file="https://xombit.com/files/2014/04/The-Flash.jpg" /></a>
        </dt></dl><dl class='gallery-item'>
        <dt class='gallery-icon landscape'>
            <a href='https://xombit.com/2014/04/comic-infografias/apodos-de-stan-lee'><img width="100" height="100" src="https://xombit.com/files/2014/04/Apodos-de-Stan-Lee-100x100.jpg" class="attachment-thumbnail size-thumbnail" alt="Apodos de Stan Lee" srcset="https://xombit.com/files/2014/04/Apodos-de-Stan-Lee-100x100.jpg 100w, https://xombit.com/files/2014/04/Apodos-de-Stan-Lee-50x50.jpg 50w, https://xombit.com/files/2014/04/Apodos-de-Stan-Lee-118x118.jpg 118w" sizes="(max-width: 100px) 100vw, 100px" data-attachment-id="115279" data-orig-file="https://xombit.com/files/2014/04/Apodos-de-Stan-Lee.jpg" data-orig-size="700,450" data-comments-opened="1" data-image-meta="{&quot;aperture&quot;:&quot;0&quot;,&quot;credit&quot;:&quot;&quot;,&quot;camera&quot;:&quot;&quot;,&quot;caption&quot;:&quot;&quot;,&quot;created_timestamp&quot;:&quot;0&quot;,&quot;copyright&quot;:&quot;&quot;,&quot;focal_length&quot;:&quot;0&quot;,&quot;iso&quot;:&quot;0&quot;,&quot;shutter_speed&quot;:&quot;0&quot;,&quot;title&quot;:&quot;&quot;}" data-image-title="Super Graphic" data-image-description="" data-medium-file="https://xombit.com/files/2014/04/Apodos-de-Stan-Lee-400x257.jpg" data-large-file="https://xombit.com/files/2014/04/Apodos-de-Stan-Lee.jpg" /></a>
        </dt></dl><br style="clear: both" /><dl class='gallery-item'>
        <dt class='gallery-icon landscape'>
            <a href='https://xombit.com/2014/04/comic-infografias/evolucion-de-linterna-verde'><img width="100" height="100" src="https://xombit.com/files/2014/04/Evolución-de-Linterna-Verde-100x100.jpg" class="attachment-thumbnail size-thumbnail" alt="Evolución de Linterna Verde" srcset="https://xombit.com/files/2014/04/Evolución-de-Linterna-Verde-100x100.jpg 100w, https://xombit.com/files/2014/04/Evolución-de-Linterna-Verde-50x50.jpg 50w, https://xombit.com/files/2014/04/Evolución-de-Linterna-Verde-118x118.jpg 118w" sizes="(max-width: 100px) 100vw, 100px" data-attachment-id="115280" data-orig-file="https://xombit.com/files/2014/04/Evolución-de-Linterna-Verde.jpg" data-orig-size="700,448" data-comments-opened="1" data-image-meta="{&quot;aperture&quot;:&quot;0&quot;,&quot;credit&quot;:&quot;&quot;,&quot;camera&quot;:&quot;&quot;,&quot;caption&quot;:&quot;&quot;,&quot;created_timestamp&quot;:&quot;0&quot;,&quot;copyright&quot;:&quot;&quot;,&quot;focal_length&quot;:&quot;0&quot;,&quot;iso&quot;:&quot;0&quot;,&quot;shutter_speed&quot;:&quot;0&quot;,&quot;title&quot;:&quot;&quot;}" data-image-title="Super Graphic" data-image-description="" data-medium-file="https://xombit.com/files/2014/04/Evolución-de-Linterna-Verde-400x256.jpg" data-large-file="https://xombit.com/files/2014/04/Evolución-de-Linterna-Verde.jpg" /></a>
        </dt></dl><dl class='gallery-item'>
        <dt class='gallery-icon portrait'>
            <a href='https://xombit.com/2014/04/comic-infografias/departamento-de-policia-de-gotham'><img width="100" height="100" src="https://xombit.com/files/2014/04/Departamento-de-Policia-de-Gotham-100x100.jpg" class="attachment-thumbnail size-thumbnail" alt="Departamento de Policia de Gotham" srcset="https://xombit.com/files/2014/04/Departamento-de-Policia-de-Gotham-100x100.jpg 100w, https://xombit.com/files/2014/04/Departamento-de-Policia-de-Gotham-50x50.jpg 50w, https://xombit.com/files/2014/04/Departamento-de-Policia-de-Gotham-118x118.jpg 118w" sizes="(max-width: 100px) 100vw, 100px" data-attachment-id="115281" data-orig-file="https://xombit.com/files/2014/04/Departamento-de-Policia-de-Gotham.jpg" data-orig-size="700,899" data-comments-opened="1" data-image-meta="{&quot;aperture&quot;:&quot;0&quot;,&quot;credit&quot;:&quot;&quot;,&quot;camera&quot;:&quot;&quot;,&quot;caption&quot;:&quot;&quot;,&quot;created_timestamp&quot;:&quot;0&quot;,&quot;copyright&quot;:&quot;&quot;,&quot;focal_length&quot;:&quot;0&quot;,&quot;iso&quot;:&quot;0&quot;,&quot;shutter_speed&quot;:&quot;0&quot;,&quot;title&quot;:&quot;&quot;}" data-image-title="Super Graphic" data-image-description="" data-medium-file="https://xombit.com/files/2014/04/Departamento-de-Policia-de-Gotham-400x513.jpg" data-large-file="https://xombit.com/files/2014/04/Departamento-de-Policia-de-Gotham.jpg" /></a>
        </dt></dl><dl class='gallery-item'>
        <dt class='gallery-icon portrait'>
            <a href='https://xombit.com/2014/04/comic-infografias/colores'><img width="100" height="100" src="https://xombit.com/files/2014/04/Colores-100x100.jpg" class="attachment-thumbnail size-thumbnail" alt="Colores" srcset="https://xombit.com/files/2014/04/Colores-100x100.jpg 100w, https://xombit.com/files/2014/04/Colores-50x50.jpg 50w, https://xombit.com/files/2014/04/Colores-118x118.jpg 118w" sizes="(max-width: 100px) 100vw, 100px" data-attachment-id="115282" data-orig-file="https://xombit.com/files/2014/04/Colores.jpg" data-orig-size="700,933" data-comments-opened="1" data-image-meta="{&quot;aperture&quot;:&quot;0&quot;,&quot;credit&quot;:&quot;&quot;,&quot;camera&quot;:&quot;&quot;,&quot;caption&quot;:&quot;&quot;,&quot;created_timestamp&quot;:&quot;0&quot;,&quot;copyright&quot;:&quot;&quot;,&quot;focal_length&quot;:&quot;0&quot;,&quot;iso&quot;:&quot;0&quot;,&quot;shutter_speed&quot;:&quot;0&quot;,&quot;title&quot;:&quot;&quot;}" data-image-title="Super Graphic" data-image-description="" data-medium-file="https://xombit.com/files/2014/04/Colores-400x533.jpg" data-large-file="https://xombit.com/files/2014/04/Colores.jpg" /></a>
        </dt></dl><dl class='gallery-item'>
        <dt class='gallery-icon landscape'>
            <a href='https://xombit.com/2014/04/comic-infografias/animales'><img width="100" height="100" src="https://xombit.com/files/2014/04/Animales-100x100.jpg" class="attachment-thumbnail size-thumbnail" alt="Animales" srcset="https://xombit.com/files/2014/04/Animales-100x100.jpg 100w, https://xombit.com/files/2014/04/Animales-50x50.jpg 50w, https://xombit.com/files/2014/04/Animales-118x118.jpg 118w" sizes="(max-width: 100px) 100vw, 100px" data-attachment-id="115283" data-orig-file="https://xombit.com/files/2014/04/Animales.jpg" data-orig-size="700,447" data-comments-opened="1" data-image-meta="{&quot;aperture&quot;:&quot;0&quot;,&quot;credit&quot;:&quot;&quot;,&quot;camera&quot;:&quot;&quot;,&quot;caption&quot;:&quot;&quot;,&quot;created_timestamp&quot;:&quot;0&quot;,&quot;copyright&quot;:&quot;&quot;,&quot;focal_length&quot;:&quot;0&quot;,&quot;iso&quot;:&quot;0&quot;,&quot;shutter_speed&quot;:&quot;0&quot;,&quot;title&quot;:&quot;&quot;}" data-image-title="Super Graphic" data-image-description="" data-medium-file="https://xombit.com/files/2014/04/Animales-400x255.jpg" data-large-file="https://xombit.com/files/2014/04/Animales.jpg" /></a>
        </dt></dl><dl class='gallery-item'>
        <dt class='gallery-icon landscape'>
            <a href='https://xombit.com/2014/04/comic-infografias/cosplay'><img width="100" height="100" src="https://xombit.com/files/2014/04/Cosplay-100x100.jpg" class="attachment-thumbnail size-thumbnail" alt="Cosplay" srcset="https://xombit.com/files/2014/04/Cosplay-100x100.jpg 100w, https://xombit.com/files/2014/04/Cosplay-50x50.jpg 50w, https://xombit.com/files/2014/04/Cosplay-118x118.jpg 118w" sizes="(max-width: 100px) 100vw, 100px" data-attachment-id="115284" data-orig-file="https://xombit.com/files/2014/04/Cosplay.jpg" data-orig-size="700,525" data-comments-opened="1" data-image-meta="{&quot;aperture&quot;:&quot;0&quot;,&quot;credit&quot;:&quot;&quot;,&quot;camera&quot;:&quot;&quot;,&quot;caption&quot;:&quot;&quot;,&quot;created_timestamp&quot;:&quot;0&quot;,&quot;copyright&quot;:&quot;&quot;,&quot;focal_length&quot;:&quot;0&quot;,&quot;iso&quot;:&quot;0&quot;,&quot;shutter_speed&quot;:&quot;0&quot;,&quot;title&quot;:&quot;&quot;}" data-image-title="Super Graphic" data-image-description="" data-medium-file="https://xombit.com/files/2014/04/Cosplay-400x300.jpg" data-large-file="https://xombit.com/files/2014/04/Cosplay.jpg" /></a>
        </dt></dl><dl class='gallery-item'>
        <dt class='gallery-icon landscape'>
            <a href='https://xombit.com/2014/04/comic-infografias/the-flash-y-superman'><img width="100" height="100" src="https://xombit.com/files/2014/04/The-Flash-y-Superman-100x100.jpg" class="attachment-thumbnail size-thumbnail" alt="The Flash y Superman" srcset="https://xombit.com/files/2014/04/The-Flash-y-Superman-100x100.jpg 100w, https://xombit.com/files/2014/04/The-Flash-y-Superman-50x50.jpg 50w, https://xombit.com/files/2014/04/The-Flash-y-Superman-118x118.jpg 118w" sizes="(max-width: 100px) 100vw, 100px" data-attachment-id="115285" data-orig-file="https://xombit.com/files/2014/04/The-Flash-y-Superman.jpg" data-orig-size="700,459" data-comments-opened="1" data-image-meta="{&quot;aperture&quot;:&quot;0&quot;,&quot;credit&quot;:&quot;&quot;,&quot;camera&quot;:&quot;&quot;,&quot;caption&quot;:&quot;&quot;,&quot;created_timestamp&quot;:&quot;0&quot;,&quot;copyright&quot;:&quot;&quot;,&quot;focal_length&quot;:&quot;0&quot;,&quot;iso&quot;:&quot;0&quot;,&quot;shutter_speed&quot;:&quot;0&quot;,&quot;title&quot;:&quot;&quot;}" data-image-title="Super Graphic" data-image-description="" data-medium-file="https://xombit.com/files/2014/04/The-Flash-y-Superman-400x262.jpg" data-large-file="https://xombit.com/files/2014/04/The-Flash-y-Superman.jpg" /></a>
        </dt></dl><br style="clear: both" /><dl class='gallery-item'>
        <dt class='gallery-icon landscape'>
            <a href='https://xombit.com/2014/04/comic-infografias/supergraphic_mechs_v4-indd-2'><img width="100" height="100" src="https://xombit.com/files/2014/04/The-Walking-Dead-100x100.jpg" class="attachment-thumbnail size-thumbnail" alt="Esparanza de vida The Walking Dead" srcset="https://xombit.com/files/2014/04/The-Walking-Dead-100x100.jpg 100w, https://xombit.com/files/2014/04/The-Walking-Dead-50x50.jpg 50w, https://xombit.com/files/2014/04/The-Walking-Dead-118x118.jpg 118w" sizes="(max-width: 100px) 100vw, 100px" data-attachment-id="115286" data-orig-file="https://xombit.com/files/2014/04/The-Walking-Dead.jpg" data-orig-size="700,447" data-comments-opened="1" data-image-meta="{&quot;aperture&quot;:&quot;0&quot;,&quot;credit&quot;:&quot;&quot;,&quot;camera&quot;:&quot;&quot;,&quot;caption&quot;:&quot;&quot;,&quot;created_timestamp&quot;:&quot;1360942886&quot;,&quot;copyright&quot;:&quot;&quot;,&quot;focal_length&quot;:&quot;0&quot;,&quot;iso&quot;:&quot;0&quot;,&quot;shutter_speed&quot;:&quot;0&quot;,&quot;title&quot;:&quot;SuperGraphic_Mechs_v4.indd&quot;}" data-image-title="Super Graphic" data-image-description="" data-medium-file="https://xombit.com/files/2014/04/The-Walking-Dead-400x255.jpg" data-large-file="https://xombit.com/files/2014/04/The-Walking-Dead.jpg" /></a>
        </dt></dl><dl class='gallery-item'>
        <dt class='gallery-icon landscape'>
            <a href='https://xombit.com/2014/04/comic-infografias/muertes-de-the-walking-dead'><img width="100" height="100" src="https://xombit.com/files/2014/04/Muertes-de-The-Walking-Dead-100x100.jpg" class="attachment-thumbnail size-thumbnail" alt="Muertes de The Walking Dead" srcset="https://xombit.com/files/2014/04/Muertes-de-The-Walking-Dead-100x100.jpg 100w, https://xombit.com/files/2014/04/Muertes-de-The-Walking-Dead-50x50.jpg 50w, https://xombit.com/files/2014/04/Muertes-de-The-Walking-Dead-118x118.jpg 118w" sizes="(max-width: 100px) 100vw, 100px" data-attachment-id="115287" data-orig-file="https://xombit.com/files/2014/04/Muertes-de-The-Walking-Dead.jpg" data-orig-size="700,446" data-comments-opened="1" data-image-meta="{&quot;aperture&quot;:&quot;0&quot;,&quot;credit&quot;:&quot;&quot;,&quot;camera&quot;:&quot;&quot;,&quot;caption&quot;:&quot;&quot;,&quot;created_timestamp&quot;:&quot;0&quot;,&quot;copyright&quot;:&quot;&quot;,&quot;focal_length&quot;:&quot;0&quot;,&quot;iso&quot;:&quot;0&quot;,&quot;shutter_speed&quot;:&quot;0&quot;,&quot;title&quot;:&quot;&quot;}" data-image-title="Super Graphic" data-image-description="" data-medium-file="https://xombit.com/files/2014/04/Muertes-de-The-Walking-Dead-400x254.jpg" data-large-file="https://xombit.com/files/2014/04/Muertes-de-The-Walking-Dead.jpg" /></a>
        </dt></dl>
        <br style='clear: both' />
    </div>